Welcome to Pin-Up,
where you really do come 1st.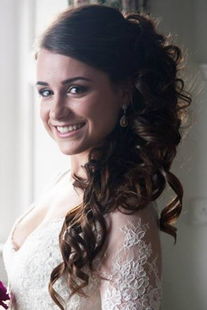 Here at Pin-up-beauty in Milton Keynes we are highly skilled, talented professionals, who have
collectively over 35 years of experience.
We are talented artists who can with our expert knowledge help you to obtain the very look that you are hoping to achieve!
whether you are a Bride
have a Prom to attened
book hair care or Makeup lessons
share a Pamper Evening with friends
have a Special Occasion to attend
or just want to try a new look.
We can provide you with a Makeup Artist, Hairstylist,
Bio Sculpture Gel nail technician, and all in your own home.
Contact us to help you create your bespoke look.
---
---
Testimonials
from some of our lovely customers.
"Thank you so much for doing my hair I love it. After years of traveling miles away to get my hair done I've finally found someone on my door step! Very happy client!! Would recommend to anybody!"
​ Jemma, wedding 2016 (client since 2014)
​
"Highly recommended hair and make up. 10/10 service. So friendly and great value for money.
Thanks Sue and Stacey xxx"
Sam, wedding 2016 (client since 2006)
​
" The Pin-up team is the best in Milton Keynes!
I have used their services many times and have never been disappointed, even more, they always manage to do my hair, & make up better than I had expected.
On my wedding day they made me feel and look like a star!!!
I strongly recommend the girls from Pin-up team! not only because they are lovely, professional and always make you smile, but mainly because they listen to what their clients require and will never let you down. "
Nina, wedding 2013 (client since 2012)


" Thank you so much Sue for my beautiful hair transformation :)
I have been having my hair coloured for years and being in the beauty industry also I have had many hairdressers do my hair, but nothing like you have done for me today, truly happy, the best set of highlights EVER :)
Your home visits are so convenient for me and loved our girly chat what a lovely day.
Thank you again for making me feel all beautiful again, see you soon for my next appointment. "
Sophie, xXx May 2015


"Sue thank you for my hair style yesterday.
So many people commented on how good it looked.
I was really pleased, Manjeet and the 3 girls hair was absolutely perfect yesterday. Well done , they were all so happy ,
They all looked gorgeous xx"
Harrinda, May 2015 (client since 2004)

"Sue is a true professional and helped us choose different hairstyles for various occasions over my daughter's wedding. I have very fine hair and when Sue put my hair up it looked fuller, I could not believe it that it was my hair. My relatives were so impressed with mine and my daughters hairstyles, on the pre wedding celebrations that they kept asking if Sue could do their hair on the wedding day. On the wedding day Sue worked so hard and managed to do everybody's hair by starting very early in the morning. On both the pre-wedding and wedding day everybody commented saying how beautiful mine and my daughters hair looked.
Sue also did our hair when my older daughter got married several years ago, she is very approachable, open to ideas and is a very experienced hairstylist, so whenever we have a special occasion I always ask her to do our hair.
I have a lot of confidence in Sue and would not hesitate to recommend her to anyone. She is fantastic!!! "
Manjeet, September 2015 (client since 2007)


"Thank you Sue for doing hair and makeup not only for the bride and her bridesmaids but also mothers of the bride and groom.
You made us all feel amazing as you worked your magic at the Dunstan and Swanborough wedding!"
Alison, September 2015 (client since 2014)


"Sue did my hair and make-up, my maid of honour's hair and make-up and even had time to spruce up the hair of my other bridesmaid, my Mother and my Mother-in-law.
She came with her office in two cases, she was super organised and knew exactly what she was doing as we previously had a practice, however she had enough imagination and improvisation ability to make any adjustments to make everyone look and feel amazing for the day; especially me!
Pin-up is a professional service with glamour, but also a personal service filled with passionate and lovely ladies." Thank you so much x x x
Hayley September 2015 (client since 2011)
***Unfortunately due to the fact that I am female, it is not possible to take bookings to visit gentleman, purely from a safety point of view.***

​** Please note that outside Milton Keynes there will be a small charge
of 0.50p per/mile to cover traveling time and petrol**
Specialists in Hair, Nails & Make-up